Sully
PG, Drama, 96 min
Watch Trailer
American pilot Chesley Sullenberger (Tom Hanks) becomes a national hero when the plane he was flying was disabled after striking a flock of geese.
Shortly after taking off from New York's LaGuardia Airport, both engines were disabled and he quickly determined that landing in the Hudson River was his only option. He successfully glided the plane to a water landing, saving all of the 155 passengers and crew members on board.
Directed by Clint Eastwood, Sully tells the story of how an ordinary American, whose work day began in a seemingly normal way, rose to the status of hero with unbridled courage and expertise in the face of panic and danger.
The Magnificent Seven
14A, Western, 133 min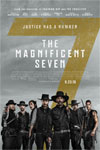 Watch Trailer
In the Old West, the sleepy town of Rose Creek is plagued by savage outlaws led by Bartholomew Bogue (Peter Sarsgaard). They burn down a church and slaughter many of the innocent civilians in order to drive them away from their parcels of land.
The widow (Haley Bennett) of one of the men they killed approaches Sam Chisolm (Denzel Washington) to ask for help. When he hears Bogue's name, Chisholm agrees and rounds up a group of six diverse men, including wise-cracking gambler Josh Faraday (Chris Pratt), to take on the outlaws.